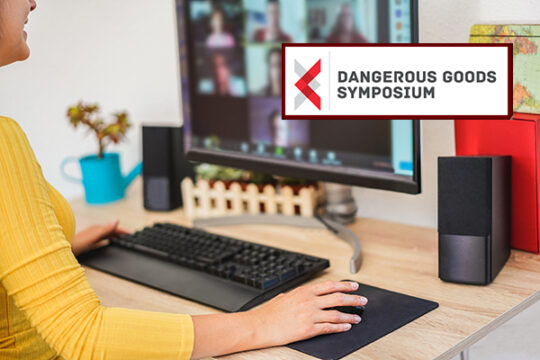 On one level, regulatory update sessions at the 2020 Dangerous Goods Symposium are for true DG diehards—the trainers and shipping managers who have to know hazmat regulations in detail to keep their clients and operations compliant.
But even if your job only occasionally touches the Dangerous Goods supply chain, you can still gain valuable insight. When you see how much effort and collaboration go into every small change in the regulations, you can truly appreciate the difficulty of balancing safety with the changing demands of commerce.
And that appreciation grows even more when you have the chance to compare well-harmonized regulatory frameworks with those that are barely harmonized at all.
Here's a recap of last week's session.
Duane Pfund on PHMSA's unforeseeable year
Duane Pfund, International Program Coordinator at PHMSA, described a year no one at PHMSA could have foreseen. Along with narrow questions such as Should recycled plastics be authorized for additional package types, his agency spent much of the last few months answering major questions like How the heck are we going to get anything done?
"Thankfully, we've all become very comfortable with Zoom," he said.
PHMSA managed to implement and coordinate a remarkable agenda of "notices, many with international partners, to help support businesses during the pandemic," said Pfund. "We had lots of new entrants into the DG world—particularly with hand sanitizer and disinfectants—and it was important to get them up to speed on safety regulations."
PHMSA can accomplish most of their regulatory agenda via online meetings, but international harmonization is more challenging. While meetings amongst the UN, ICAO and IMO committees can be held online, actual decisions have to be voted in by live attendees.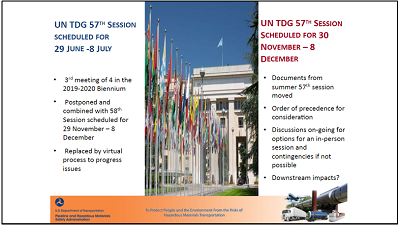 With live meetings impossible, the 57th session of the UN Subcommittee on the Transport of Dangerous Goods focused on examining and revising papers submitted for rulemaking. This required prioritizing some 58 papers for review in a 12-hour period, but, as Pfund said, "We didn't want to take a year off, because every proposal is important to somebody."
Dave Brennan on regulations that make your job easier
Hazmat-shipping newbies often feel like regulations are created to make their jobs harder. Spend some time with IATA Assistant Director Cargo Safety & Standards Dave Brennan, though, and you realize just how often the opposite is true. Regulations are changed to make your job easier, not harder.
A few examples from his session describing changes in the upcoming 2021 IATA Dangerous Goods Regulations: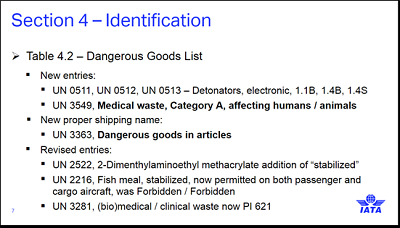 A new proper shipping name and UN number (3363) for Dangerous Goods in articles, which simplifies what had been a confusing decision for shippers of many new products.
A revised entry for UN 2216 permitting stabilized fish meal on both passenger and cargo aircraft. "The fish meal industry has a need to move samples from place to place," Brennan said, "and there was no reason it needed to be forbidden."
A new special provision (A215) for environmentally hazardous substances. Brennan explained, "Something with a nice easy name like 'printing ink' had a 3-line name. Now you can just say 'Environmentally hazardous substance, liquid' and put 'printing ink' in parentheses."
New packing instructions (PI 378 and PI 972) that allow tanks in certain machinery to retain up to a quarter tank of fuel. "That's for operational flexibility," Brennan said, "so they can start the engine as soon as they unload it."
One reason these rules are helpful is that the IATA DGR is followed by virtually every air carrier in every country. But what happens when the regulations aren't so well-harmonized?
Gotelli on hard-won South American harmonization
Two years ago, Diego Gotelli—Director of the Chemistry Information Center at CIQUIME—entertained and enlightened the Symposium audience with his tale of a fictional chemical delivery from San Antonio to Buenos Aires that incurred $30,000 in Dangerous Goods penalties, violating five different sets of hazmat regulations in 10,500 miles.
"If you ship chemicals to South America by air, you won't have any problems," he said during last week's session. "The problems come when you ship by road."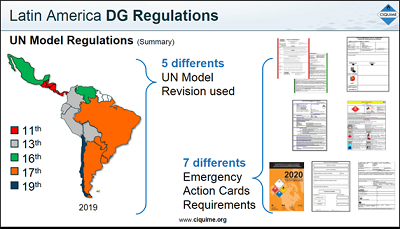 Gotelli has pushed Central and South American harmonization for years, and there has been some progress. But shipping hazmat through the region by ground still requires navigating those five sets of regulations, along with two placarding styles and seven different emergency response requirements.
There is help on the horizon: Mercosur, the largest free-trade agreement bloc in South America, has agreed to a new agreement based on the 17th version of the UN Model Regulations establishing a harmonized framework governing packaging, documentation, inspections, violations and sanctions.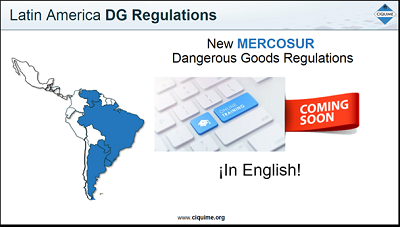 Mercosur is partnering with Labelmaster to introduce this new DGR in English. Which means that, soon enough, you'll be able to ship hazmat by ground through most of South America—from Venezuela to Argentina—under the same set of rules.
Once again, we see regulators doing the hard work to make the rest of our jobs easier. ¡Bien hecho!
Coming up at the DG Symposium
Thursday, Oct. 1: Chinese Regulatory Intricacies. Critical points to consider for any Dangerous Goods manufacturer or shipper with an eye on the Chinese market.
Tuesday, Oct. 6: Generational Learning – Bridging the Gap. LaQuita Donald from Genuine Parts Company and Labelmaster's Rhonda Jessop discuss different ways to adapt and evolve training to make it totally inclusive.
Friday, Oct. 9: CISA 101 & CFATS Update. Essential updates from the Department of Homeland Security regarding the Cybersecurity and Infrastructure Security Agency and the Chemical Facility Anti-Terrorism Standards.
Make sure your shipments are safe and in complete compliance with a full line of solutions from Labelmaster—a full-service provider of goods and services for hazardous materials and Dangerous Goods professionals, shippers, transport operators and EH&S providers.