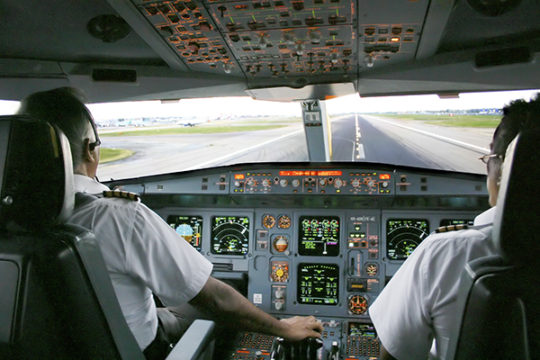 We've written plenty about the importance of training for people who prepare Dangerous Goods shipments for air transport. But what about the people who actually fly the planes?
James Wyatt, Senior Vice President Aviation Solutions at Avialytics GmbH, believes the training needs of pilots and flight crews aren't adequately addressed by currently available resources. And he's started a survey to help "create a training module which is classroom- and possibly online-based for cargo and passenger airline flight crew which delivers knowledge, application of the knowledge and some fun into a very important safety topic."
Before joining Avialytics, Wyatt helped launch IATA's DG AutoCheck—a digital solution that makes acceptance of hazmat shipments faster and more consistent by replacing paper documentation. We asked Wyatt and our new consulting partner Geoff Leach about the survey and the specific needs flight crews have for hazmat training.
What will the pilots' survey discover?
"The objective of the survey is to get the real view of the crew members and then with their feedback adapt the training material accordingly and offer it," says Wyatt.
He wants to ask flight crews, "What value does that training bring to you? What do you actually leave the training with in terms of knowledge and the possibility to apply that knowledge in your daily operational life in the cockpit?"
How familiar are pilots (and flight crews) with DG regulations?
Leach says, "Each flight deck crew member must undergo DG training which is mandated by ICAO/IATA. Dependent on the CAA regulations of the country in which the airline operates, the duration and the frequency of the training may vary.
Are there significant differences in training requirements for cargo vs. passenger pilots? Should there be?
"This is a very grey area," says Wyatt. "In short: no. Our objective is to set differences with our training material and give the flight deck crew the 'real information' they need, in line with the regulations, to be able to make use of the information and put it into practice in their daily operational lives."
Are there shortcomings to the resources currently available for pilot DG training?
Wyatt acknowledges this is a difficult question.
"Regulatory-wise, the training must be done. The real question is the quality of the training and even more importantly, the method used to deliver it. We want to see interactive, real-life training—on top of the 'minimum' requirements laid out in the regulations—which provides useful information based on current topics, such as a focus on lithium batteries."
Better training means safer Dangerous Goods transport! If you are a pilot or flight crew member, take the survey here.
Labelmaster is a full-service provider of goods and services for hazardous materials and Dangerous Goods professionals, shippers, transport operators and EH&S providers. See our full line of solutions at labelmaster.com.