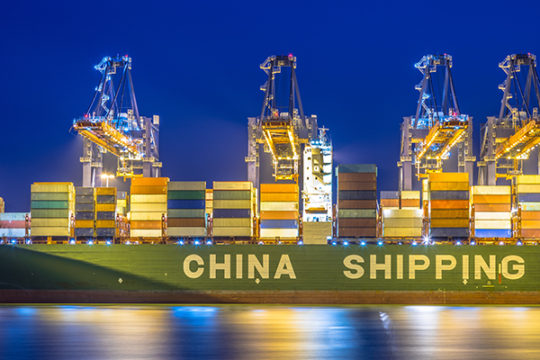 One of the most fascinating presentations at the latest Dangerous Goods Symposium was from Terry Guo, CDGP, DGSA, Regulatory Specialist and China Representative with IHMM. His presentation on "Hazardous Materials Transport Requirements in China" was an excellent primer on a very complex subject.
You can download his full presentation here, but we also spoke with Guo to get more background and insight for people who couldn't join us at the Symposium. Here are a few critical points to consider for any manufacturer or shipper with an eye on the Chinese market.
One: Chinese Dangerous Goods Transport requirements are generally based on UN Regulations, but are usually more restrictive
"In general, Chinese regulations are more restrictive than international regulations," says Guo. "The industrial environment is different, and they believe they need a higher standards. They don't want to lose control of the process."
Part of this distinction traces to China's industrial history—one that's very different from that of the United States, Canada or most European countries.
Guo explains, "Historically, Chinese industry—both their infrastructure and their regulatory culture—has been based on what they learned from the Soviet Union in the 1950s. They didn't begin to adapt to Western practices until about 40 years ago. The older structure was friendly to state-run enterprises, but not so friendly to private enterprise since there were no private ones back then. Now, there's still a lag in being more friendly to private enterprise."
Two: Modes matter
Shippers in North America and Europe will be relieved to know that, as long as their China-bound shipment is in international air space or on an ocean vessel, the familiar IATA and IMDG regulations will apply. Once those shipments reach a Chinese port, however, the governing regulations may start to seem, well, foreign.
"The domestic requirements for road, inland waterways and rail are more constrained," says Guo. "U.S. and European manufacturers often have a lot of confusion with Chinese domestic regulations. Their knowledge of the 49 CFR and the ADR will not help much, since there are some parts that are so different."
He estimates that 70% of Chinese regulations are similar to international rules, but the rest are not. For example, new road regulations mainly are adopted from the 2015 edition of the ADR—but only seven parts, not all nine. Why? Because Part 6 (packaging) and Part 9 (vehicle requirements) are not the responsibility of the Chinese Ministry of Transport but are governed by other ministries using more local requirements.
Three: You'll deal with multiple regulatory levels and standards
Transporting hazmat within China—whether you're delivering goods manufactured elsewhere or transporting goods from Chinese facilities to port—means dealing with multiple levels of regulation and standards.
Guo's presentation described a four-level structure of laws and regulations:
Law, legislated by the People's Congress
Administrative Regulation
Ministry Regulations
Standards
The standards themselves break down into four layers:
National Standards
Ministerial Standards
Industrial Standards
Enterprise Standards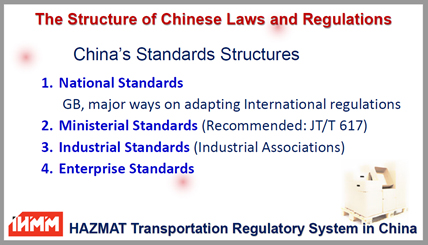 These layers can make compliance complex and challenging, particularly with regards to packaging. Guo admits, "You have to follow the local transportation rules and comply with warehousing issues. Pay more attention to road transport and you'll have a better time of it."
Four: Progress is being made
For sure, shipping Dangerous Goods in China is easier than it was a few years ago.
Guo points to the Excepted Quantity and Limited Quantity provisions, which were only adopted in China last year. "There were a lot of complaints from consumer packaged goods companies shipping products such as fragrances. They had to hire specialized trucks designed for the chemical industry. That's why Alibaba and other e-commerce shippers applied to the Ministry to adopt Excepted Quantity and Limited Quantity."
While the availability of EQ and LQ make shipping certain Dangerous Goods easier, Guo points out that "there is a concession period when the rules are still more restrictive. That's what we are facing now. Compared to the U.S, you still need a more expensive box."
Why not simply adopt the same rules as the international community? "They're afraid people will think EQ and LQ mean 'no restriction, common cargo' and just use a cheap ordinary box."
Five: Don't go it alone
English will serve you well if you're shipping hazmat in North America or Europe, but Guo recommends you enlist some help with Chinese if you're shipping into (or out of) China.
He says, "The requirements for MSDS form of imported hazmat goods now must be in Chinese language as well as English, so regional authorities can have a more accurate understanding of the materials. They don't want to overlook something."
If your organization lacks experience with Chinese Dangerous Goods requirements, Guo recommends working with a China-based consulting company such as REACH24H. He also points out the advantages of having employees who can read and speak Chinese.
Or, he says, just to get started, "You can always use Google translate on the Ministry of Transport website."
Make sure your shipments are safe and in complete compliance with a full line of solutions from Labelmaster—a full-service provider of goods and services for hazardous materials and Dangerous Goods professionals, shippers, transport operators and EH&S providers.